Agility Handling Fundamentals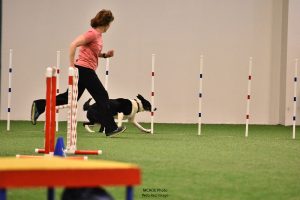 I'm offering the Agility Handling Seminar…Putting Fun in the Fundamentals AGAIN…on Dec 9th at Five Points Training in Rush, NY. There are just a few WORKING spots left. AUDITORS are welcome!
Mastering the FUNDAMENTALS in any sport is essential. THIS IS NOT A FOUNDATION seminar…it is designed for Novice to Master teams. This seminar will clarify 4 essential basics in Dog Agility Handling: Connection, Commitment, Crosses and Lines. This seminar is for any handling system because the FUNDAMENTALS are the same.
This is not your typical handling seminar… Each sequence is designed to drive home one of the core concepts and you will leave with a much better understanding of how to achieve efficiency and accuracy on course by improving your FUNDAMENTALS.
Auditors will benefit greatly too including going home with a 16 page summary of Agility Fundamentals.
Register today!  Agility Fundamentals Flyer Dec 9th
"Stay focused. Learn to trust a process. The ultimate advantage is doing the basics better than anybody else because most people won't put in that kind of focused work." — Agility World Champion and Coach Kathy Keats
Here are some comments from the Oct 8th seminar:
** Thanks again Anne, It was a awesome seminar please do another one soon !!!!
** Fun, fun seminar! Thanks Anne!
** Great seminar…Thanks Anne!
** Thank you Anne! Awesome seminar! Score and I learned more about each other and had lots of fun!
** It was a fun day and we learned a lot. Thanks! Elliott slept all the way home!
** Wonderful Seminar!! Loved seeing the dogs progressed throughout the day!
** It was a great seminar!
**Would recommend to anyone.