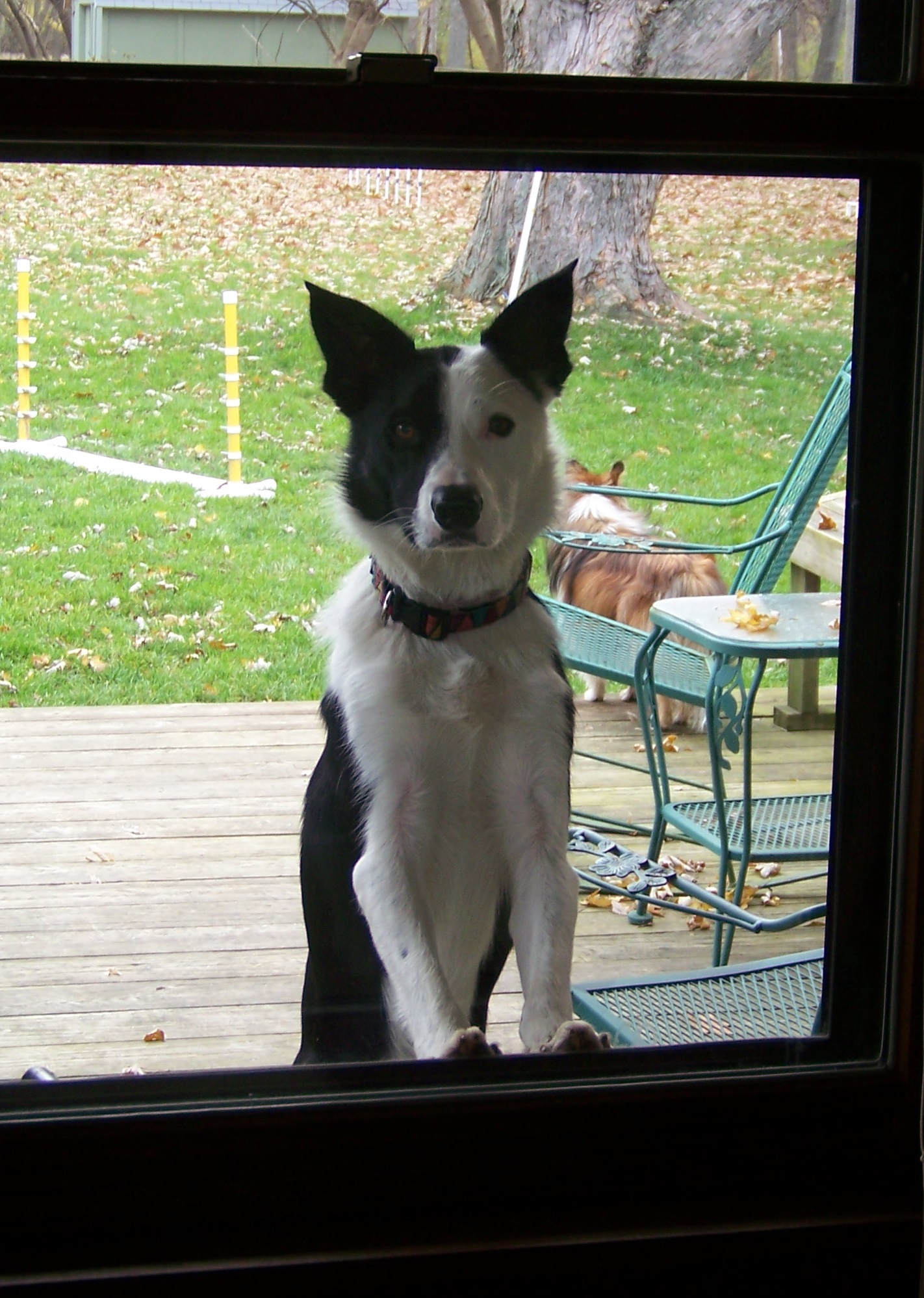 There is frost of my contacts (and on any remaining pumpkins as well) this morning.  Amazingly, I've been able to continue training outside in my yard through mid-December!  I keep checking the weather forecast to see when the first substantial snowfall will get us hurrying to bring the contacts in.  Not in the 10 day forecast yet.  Yeah!
I love training my dogs in short bursts throughout the day and the week.  To make a plan, walk out the door and get it done in 10 minutes.  And I love being able to fit the training in between household projects, errands, our daily walks and work/volunteer commitments.  Here's a picture of Tai who was outside to "do his business", asking me to come out and play now, please?  Pretty please??
Yesterday – in the afternoon, after the frost was off the contacts, I cobbled together a little novice style standard course – without moving any of the contacts — so that Tai could work all the contacts within sequences and I could see "where we are".  First thing to remember…don't just warm up the dog….remember to warm up myself!  Because, with Tai, I will be running…full out.  He did well…gorgeous running DW and A-frame but he was surprised by the speed with which he hit the teeter and did his nose touches off the board until the rising teeter board whacked him in the tail.  Just didn't shift his weight quickly enough to stay on.  I laughed and decided to spend a few minutes working that piece.
Later…just before dark on one of these short, short days of the year…we went out and worked handling around and turns off the dogwalk.  It's a fun challenge to learn how to handle around a running dogwalk.  I can see that eventually it's going to feel very smooth.  I just need to figure out timing, and continue building Tai's understanding of turns – from gentle turns to severe turns.   One thing for sure…if at all possible, I don't want to have to wait around to babysit the entry to the dogwalk!  So helping him learn to get on from lots of different angles is another piece that we are working.
It's very likely that we'll have that snow soon.  It will be beautiful…and perhaps we'll have a white Christmas.  We'll enjoy walking in snow covered fields (less mud is a good thing!).  We'll put up our Christmas tree, shop, wrap presents, bake, have lots of family visits and sometimes the dogs will get loads of extra attention and sometimes they'll feel neglected and if they could talk, would say they don't appreciate this disruption to their lives.   And I'll have to accept that contact training will have to move to training centers once or twice a week.
It's part of the rhythm of life where I live…four distinct seasons if we are lucky (not just summer and winter).  With winter adding it's special beauty and challenges and time to teach new tricks to all of the dogs.