Are you looking for something to do this winter with your puppy or older dog that requires very little space? Well, I have the answer! Teach your dog some new tricks or polish the old. Teaching tricks is a great way to have fun with your dog, improve your training and even earn titles in organizations such as AKC and DMWYD.
Tricks like hand touches, spins, weaving through your legs, 4 paws in a box, play bow, "feet" behaviors, turning on a perch, backup etc. can be taught with a combination of luring, physical cues, shaping and the use of props so you can get quick results. Then you have the option to polish the tricks by putting them on verbal cues or combining them into "routines".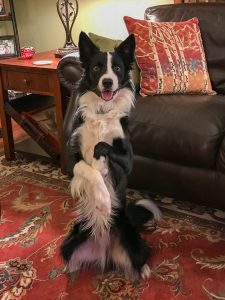 Here are some of the benefits of teaching tricks.
Teaching tricks creates a "thinking" dog and builds confidence. It allows the dog to learn to make good choices. Read about how important that is in a previous post. Learning through choices
Teaching tricks improves our dog training skills – both observational skills and mechanics – the act of getting reinforcement to the dog at the right time and place.
Trick behaviors can be used for conditioning, body awareness and improving flexibility in your dog. If your dog gets injured like my dog Nick recently did, having a set of trick behaviors to rely on can be very helpful with rehabilitation exercises.
If you are involved in a dog sport, it is useful to take that "trick training" mindset to sports like agility and obedience. Thinking of sports behaviors like line-ups, stays, heeling, collected jumping, weaving or contact behaviors as "tricks" keeps it fun for both handler and dog. In fact, may of the foundation behaviors for those skills look like tricks!
Even a small repertoire of tricks will impress family and friends!
What's not to like about teaching tricks? Last spring, Nick and I had fun meeting the requirements for the DMWYD Advanced Trick Dog title. Check it out….NICK's ADVANCED TRICK DOG VIDEO
I'm sure some of you are avid trick trainers. I'd love to hear (or see) why you like teaching tricks and the benefits it brings to you and your dogs. If you need help getting started, there are tons of resources online or reach out to me. I'm teaching privates and semi-privates this winter.
Have fun!