I experienced some thrilling moments with Tai today.   Not the thrill of competition – that is reserved for Breeze today and waaaay in the future for Tai.  These thrilling moments were about relationship.  You see, we go for long walks nearly every day and one of our favorite places is a series of open fields and woods that provide a good hilly workout and opportunities for the dogs to work their noses, sight and chase birds, paddle in a creek – which is actually not much more than a ditch, and sometimes make new doggie friends.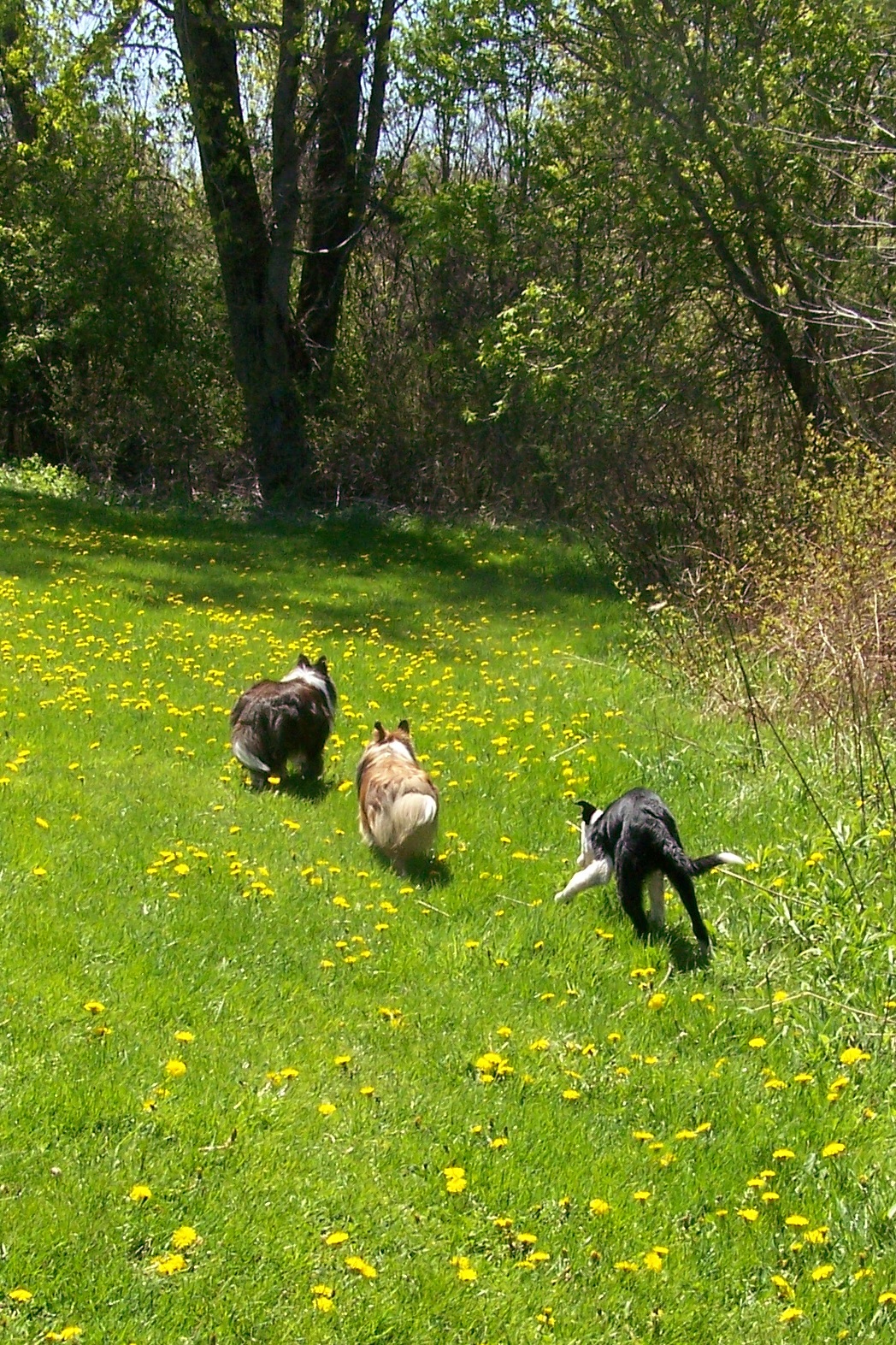 Tai has been going on these walks since he was about 8 or 9 weeks old.  I always bring treats and toys and practice recalls.  Sometimes I hide so that he has to find me and we have a party.  We practice sit stays when we turn corners as I scout ahead to see if the way is clear for 3 off leash dogs.   Sometimes, Tai and I go for walks alone.
Generally, I avoid late evening off-leash walks to reduce the chance of seeing deer but this morning we were "lucky".  As we walked through the woods, 2 deer stepped across the path.  Tai was in the lead and saw them and took off on a run.  Honestly, if I had given it a moments thought, I probably wouldn't have called him as it isn't a good idea to call your dog if you think they aren't going to come.  But, I shouted his name and amazingly he turned and spun back to me.  Big celebration.  Then a bit later, he was chasing a bird and went around a blind corner…again I called him and had a perfect recall to reward.  Yahoo!  See what  I mean about thrilling moments?  It didn't stop there either.
One of the socialization issues we've been working through is that 6 month old Tai will – on first seeing people and dogs appear in the distance – alarm bark for a few moments.  This reaction to people and other dogs is reserved for situations where they seem to "come out of no where".  He's totally comfortable seeing people and dogs in other situations, like trials or in parks.  So, when we come upon others suddenly and assuming that I read the situation as friendly, I'll release Breeze and Lacey to say "hi", ask permission to let my "goofy puppy" say hello and then encourage Tai to "go see".  He invariably settles down quickly and greets the people and dogs in a friendly manner.  I then call the dogs and we proceed on our walk.   This scenario was repeated today.  But with two big steps forward.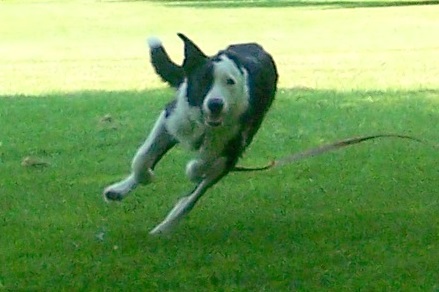 At one point, he saw a group of people and dogs in the distance and chose to ignore them, showing that he's realizing it's just no big deal.  And finally, our last encounter of the day occurred when a dog left his pack and ran across a soccer field to say hello.   Before I really knew what was happening, Tai joined Breeze and Lacey in meeting the dog halfway to say hi.   I stood still watching and Tai, after just a few seconds, turned to me and came running back, leaving all three dogs to choose to be with me.
Someday, it will be the thrill of competition that is noteworthy.   For now, I'll take these moments as a sign that we are definitely on the right track.