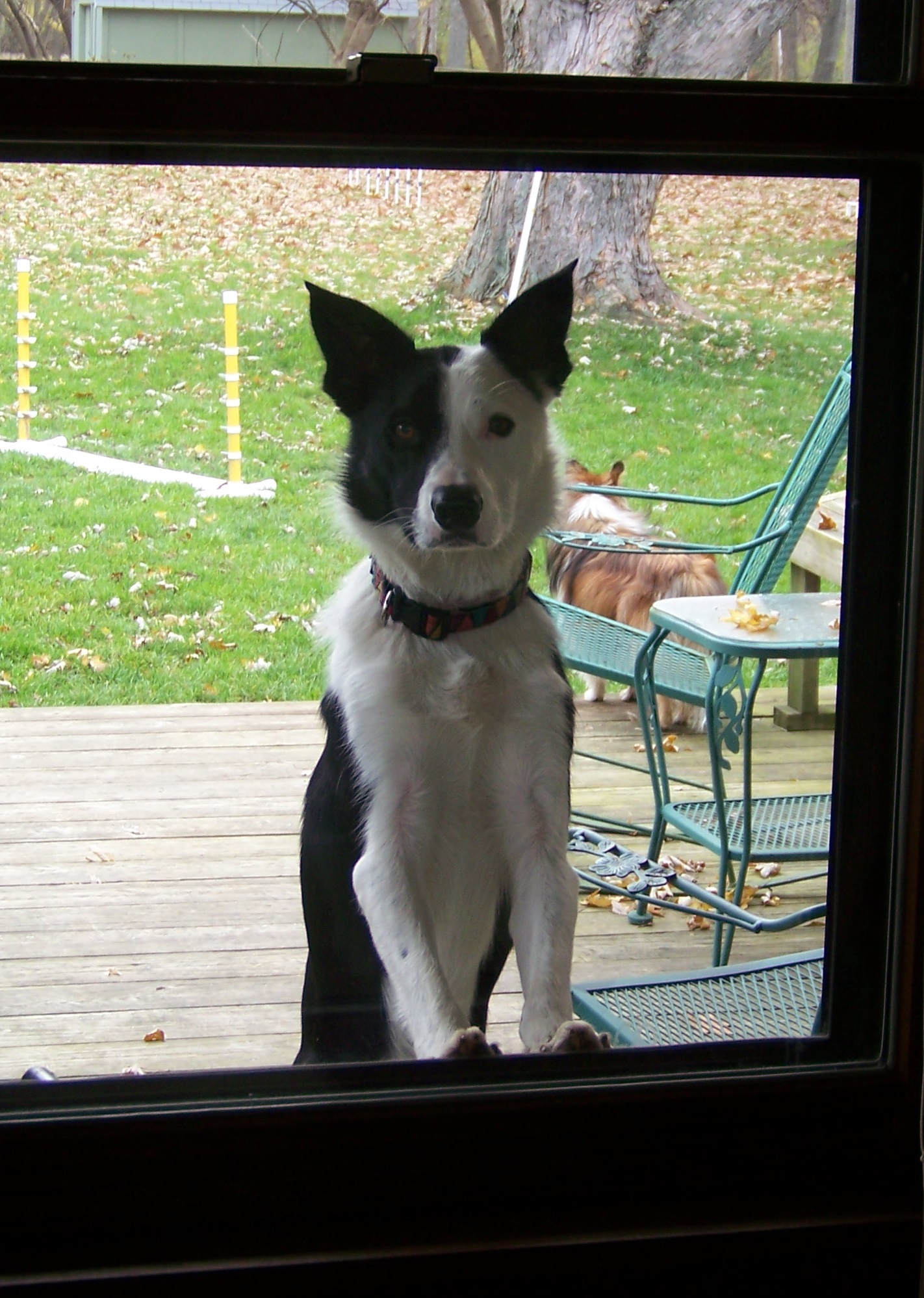 Lately, I've been thinking about Motivation and Rewards and whether our dogs are getting what they want.  So, what makes our dogs – or us humans – motivated to engage in an activity? I don't mean that we just do it, but that we develop a passion for it, so that dog or human approaches the activity with joy and enthusiasm.  Well, the answer must be that we get something we want so that we want to do it again and again.  On the human side of the equation, we enjoy building a working and playful relationship with our dog.  We enjoy the process of teaching our dog's new skills, motivating the dog to want to do this sport with us and striving to be successful dog trainers.  We are proud of our dog's skills, and may enjoy the admiration of others, the titles, the ribbons, etc.  We enjoy the challenge of sorting out the handling strategies and execution to master courses or the act of competing itself….the game of agility.  Maybe it's the social aspects of the sport.  Everyone's list would be a little different, if not in content, in priority.  Since this is a totally optional activity for most or all of us, we must be getting things we value from the act of training and competing with our dogs that makes it worth all the sacrifices in terms of time, money and lost opportunity to do other things
Now, lets pose the same questions for our dogs.  What motivates them to want to do agility with us?  Same answer.   A history of receiving something they want for the effort put in.  Call it a reward or a reinforcer for the behavior offered… but to build enthusiasm and passion, the reward must have great value for the dog. Every dog will be a little different!  Some love the chase factor, some love to tug, some like to win the tug from us, some get excited over food, some love to retrieve balls, splash in or run down a jet of water, wrestle with us, some love a vigorous body rub, some like soft petting, a happy voice, or all of the above!
Our job is to figure out what our dog finds rewarding and under what circumstances.  Evaluate but don't judge.  Your dog is as unique as you are.  Find out what he loves and use those rewards to create a history of action-reaction (behavior – reward) that motivates your dog to want to do more.  A virtuous cycle.  Just because your friend's dog is a tugging fiend,  don't try to reward your dog with tug if he doesn't like to tug (yet).  Instead use a reward your dog loves now and work on building a reward system for your dog that includes toys/tugging play separately, which of course, is a very useful tool to have in agility.
Rewards as an Event
I listened to a great interview with Michael Ellis recently on the Bad Dog Agility site. Michael works dogs in Schutzhund. The topic of the podcast was tugging and was full of great information including a discussion of dog's preferences around tugging, illustrating the point that even dogs who love to tug have particular preferences that should be respected and used to create a reward that is right for that dog.  I also loved the way he described rewarding the dog as an Event…whatever the reward.  For example, not simply rewarding the dog for the correct behavior by placing a treat in front of the dog's mouth but making the delivery of the reward something more meaningful with chase and praise as the food is delivered.  Or instead of one prolonged tugging session, execute a series of tug-release-tug.   Then the delivery of the reward becomes an Event –  more interactive, building the relationship between handler and dog.  It reminds me of how I made up a "Let's chase the squirrel" game with my Sheltie Lacey. Chasing squirrels was her FAVORITE thing to do, and our yard was full of them. So, I would ask her to sit, get in "game-on" position and ask her "do ya think there are any squirrels out there?" Then release her and we would run together from tree to tree and look up for squirrels with her barking and running.  After the game was established, I would use the anticipation of that reward event as motivation for her agility performance in training, with the goal of building speed say – across the dogwalk;  and would even sometimes lead out in competition, crouching in game-on position, saying "ooh, do you think there are any squirrels out there?", just before releasing her.
Here is the link to the interview with Michael Ellis… definitely worth the listen.
 http://baddogagility.com/episode-39-interview-with-michael-ellis-on-tugging-part-1/
So, give some thought to what your unique dog finds reinforcing, use ways to make the delivery of the reward interactive – an Event! — and your training sessions will not only be more fun but will serve to motivate your dog to want to do more!