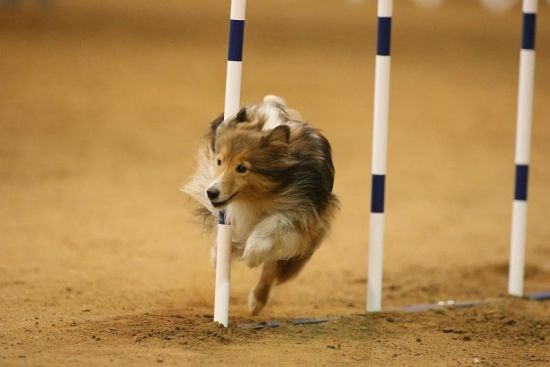 I just returned from the AKC National Championships with Breeze and I have to give huge kudos to the AKC for putting on another great event.  And kudos to the judges for GREAT courses.   From the Warm-up run to the Finals, the course challenges gave competitors lots to think about and held out multiple options for success.  It made for interesting running as well as watching.
Among the highlights for Breeze and I were the T2B run where he finished 6th out of 222 dogs.  We would have moved up a placement or two, if I had been willing to rip him off the teeter, like so many handlers did.  But I felt like that wasn't a good tactical move so early in the weekend!    I was too conservative in Rd 1 JWW of the Nationals Championship…clean, but not a great placement.  Then, we had a smokin' Rd 2 except for when I put him off course in a tricky part of the course.  Still, I felt proud of the run because it was a tough course and the rest of it was perfect and surely would have been in the top 6 or so!  And I learned a valuable lesson (again) about being more precise about where I will be versus my dog at any spot on course.  Then we put it all together in Rd 3, with a pretty perfect run and a 3rd place finish.   That placement put us in the Challenger Rd where Breeze and I had a great opening but after Breeze entered the weave poles he slipped on the packed dirt around pole 3 and lost his footing.  I think he would have recovered if I had just kept going, but I slowed up and he came out.  Bummer, bummer.    The rest of the run was good but I know probably not good enough to have won the class.  Congrats to Barb Davis and her awesome dog Sketcher, who went on to become the 2013 NAC for the 12″ class. Still, I was so proud of Breeze, who at 9 yrs. old still gives me so much.  This was Breeze's 5th AKC Nationals.  At those events, we have made Finals 3 times and Challenger Rd the other 2 times, with many, many placements in classes along the way.  Here are Breeze's T2B and 3rd place run in Rd 3 Hybrid Round. (Photo by Great Dane Photos)
For me, one of the highlights of this year's event was watching the 26" height class, since I KNOW that Tai and I will be there next year.  Wow, Wow, Wow.  There is so much talent among dogs and handlers in this height class.  It was inspiring and motivating and scary all at the same time.  The athleticism of the dogs is astounding and the teamwork between dogs and handlers left me awestruck.  To run clean on those courses was something to witness; but for those who won or placed in classes, it meant setting perfect lines throughout the course while the dogs just powered through.  And it made me wonder…certainly training and handling are huge factors BUT how much is the individual dog's raw talent and athleticism contributing to the win?  How much is perfect understanding of handler cues?  Surely, these big dogs –  who spend very little time on the ground – much be absolutely sure of where they are going at each moment, in order to both produce the cleanest lines and use all their power and speed.
This seems to be a time in our sport of dog agility, where handlers are seeking new ways of handling, experimenting with handling cues that will produce the tightest turns and the perfect number of strides throughout the course.  Ketschker (sp?) turns and blind crosses abounded at this event.  Sometimes these maneuvers produced perfection, sometimes not so much.  But I guess you can say that about any handling cue.   It's all about the understanding the dog has at that split second where he needs information about where he is going next.  No questions, just power and speed.
That's why consistency makes so much sense to me.  In the "language" , I use with my dogs, if I am running hard, I want my dog to run hard too; if I decelerate– even just a bit, I want my dog to understand that we are turning.  If I decelerate to a stop – even for a split second, I want my dog to know that a big turn is coming.  If I'm doing a side change, I want my dog to have no doubt about which way we are turning.  It's a series of split second bits of information given by me to my dog and his pure understanding of the cues that will hopefully produce the power, speed and accuracy.
I'm confident that my dogs do understand these cues…so, you will not see me experimenting with "K" turns anytime soon.  But it's fun to watch other handlers get it done a different way!
As for blind crosses, some of what I saw this weekend has me thinking.  I saw blind crosses used after the A-frame (Rd 2 and Challenger) and tunnels (Challenger) that produced the needed side change while keeping the dog in full extension – that is, while dogs were going straight or making a very slight turn — and allowing the handler to get ahead in a critical part of the course.   On the other hand, I've watched enough at Nationals and other places, to be suspicious of  blind crosses where the dog is turning significantly on jumps –I can see how the dogs might lose their understanding of shoulder rotation and question what side to come to as their handler rotates her body.  I'm having fun watching and trying to figure out what cues the dogs are reading.  I'm sure there is a bit of that puzzle I haven't figured out yet.  And for me – who, so far, can execute FC's without risking knee injury – I see no need to make my dogs think that much.
It's exciting to see our sport advance and inspiring to watch such great teams pull it all together.  Now, if only the snow and ice would leave, I could start my spring training!