As part of the Dog Agility Blogger Action Day, I'm taking a stab at defining how I have FUN with dog agility.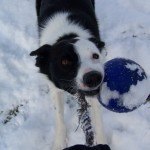 This is a topic close to me because I just came out of a period where agility wasn't that much "Fun", or at least where another "F" word better described my mindset and that was "Frustrated".  Frustrated because over the course of a 2 yr period there always seemed to be something in the way of achieving my lofty competitive goals with my 5 yr old border collie, Tai. Goals that included qualifying for big events like nationals and world team tryouts and ultimately doing well at those events. The list includes dog injuries, human injuries, tough, long Northeast winters with little to no training, canceled winter trials, unsettling conditions at summer outdoor trials (mud, heavy rain, uneven ground) that led to errors or scratching, jumping the tough height of 26″, a couple of holes in our training and a couple of "kind of odd" training challenges provided by my quirky but brilliant border collie, Tai.
So, I stepped back and asked myself why I love this sport.  Answer was because it is "fun".  So, wait a minute…didn't I just say I wasn't having fun anymore?  So, I thought about WHEN I consistently have fun with my dogs.
I am relaxed and don't feel rushed.
I'm not worried about making mistakes…if they happen, we just got a lesson!
I'm totally engaged with my dog – we are connected, respectful and playful.
I am mentally engaged with the handling or training challenges that are before me.
I have a specific goal and a plan, appropriate for the learning stage my dog is in at that time.
Does that sound like a TRAINING session?  Yes.  But the answer to how I am making agility fun again, is to take that same attitude to every TRIAL.  Agility is a GAME that we PLAY with our dogs.  In a training session or at a trial…be playful, try hard and have FUN!  That sums up the attitude of my canine partners and I want to emulate it.
"Comparison is the thief of joy" – this quote is attributed to several famous people…including Theodore Roosevelt and Dwight Eisenhower.  It doesn't matter who said it…there is a lot of truth in it.  In 2016, I'm playing my own game, with my own dog and celebrating my own victories – big or small.  I don't have competitive goals as defined by qualifying for big events or obtaining that next DQ or MACH.  Instead my goal is to walk to the line with this attitude – be playful, try hard and have fun.  I'm not expecting improvements to happen by accident.  I have gotten input from coaches and training partners leading to a good training plan. I am strategically using trials to work through some of our training or handling challenges, being ready to take a lesson away and building to the point where I will step to the line totally confident in our skills – knowing things can go wrong but not anticipating that they might.  So far, that is working for us.  And I believe the rest will come, or it won't.  Meanwhile, I will truly enjoy the sport with my canine partner who does not care one wit if we qualify or not, if we are at a trial or in the backyard playing the game.
I've been around agility competitions for many years and have participated in multiple venues.  I competed in an era when we were truly just figuring things out, long before "handling systems" came on the scene.  I have competed at many small local trials, Nationals and at the Agility World Championships.  I have observed that the "best competitors" have a few things in common and that includes truly enjoying the game they are playing with their dogs. Whether they win or lose…they respect their partner and can bounce back quickly from errors.  And I'm talking about people on the world stage and people who never leave home.  They just make me smile because of the joy they share with their dog and the recognition that in spite of a small error there was a lot of good stuff and they know their dog tried hard.  In the midst of the frustration I was feeling in the fall, I had several people I didn't know come up to me and complement me on how nice I am to my dogs and enjoy watching me interact with them (I think they meant watching me be playful).  That made me feel great because I was struggling at the time with a string of non-qualifying runs and it was nice to know that I wasn't being a complete douche bag about it.
That is my story…I hope it helps some of you who may be struggling…be playful, try hard and have fun!  Here is a recent video I put together to celebrate that attitude and remind myself how much fun I have doing this sport with my one of my best buddies.  One Step at a Time.
Read what others have written on this topic here: Dog Agility Bloggers Action Day – Fun.