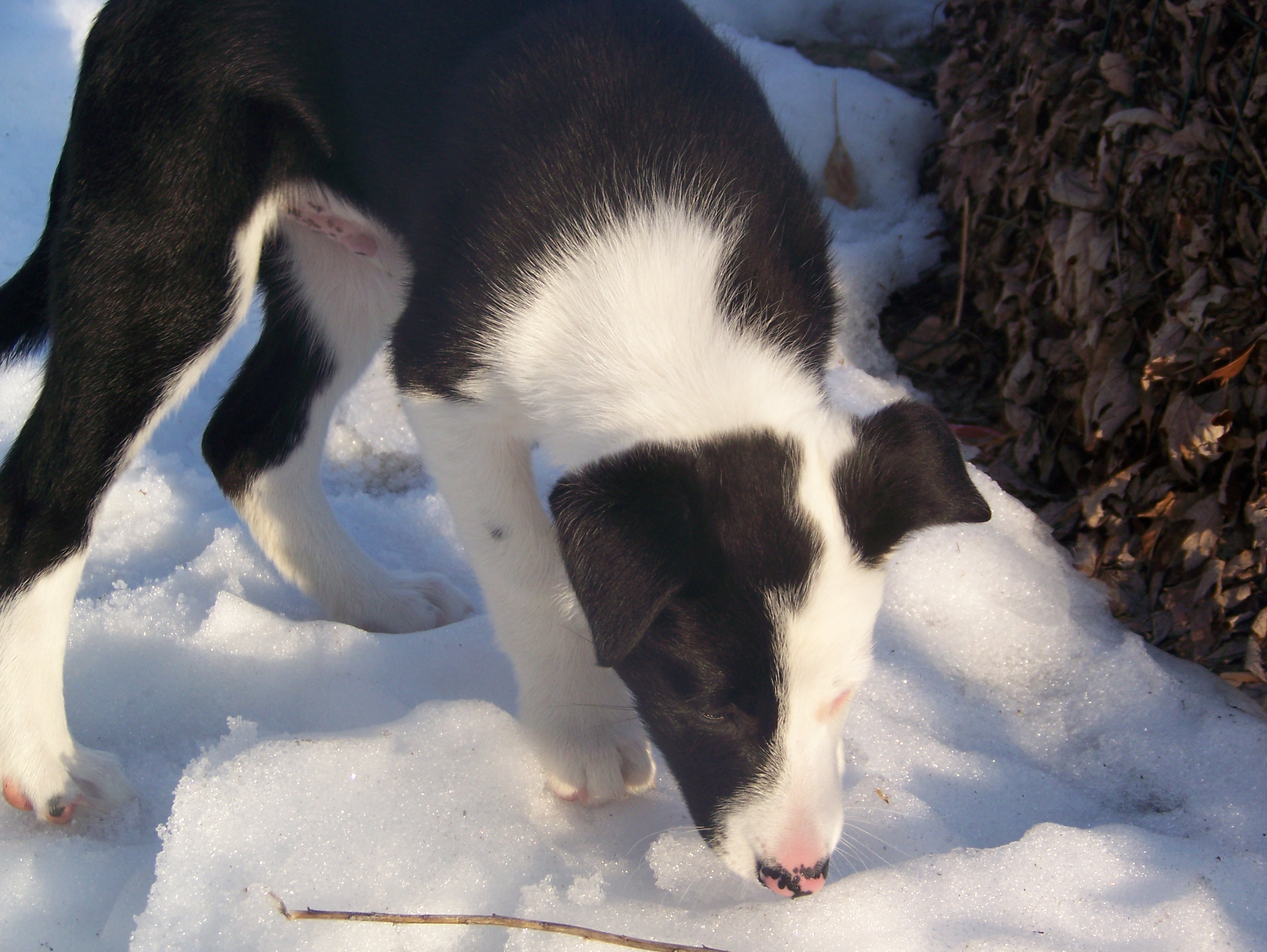 Socialization is still my top priority for my puppy Tai.  Now that spring has suddenly arrived in the Northeast (I hope permanently), a whole new world is opening up for my youngster who turned 10 weeks old yesterday.   And I'm learning to be ready for anything.  Example: We had a busy day planned this past Thursday.  Walk in the morning with the older dogs, train with friends in the afternoon along with a  little friendly human socialization for Tai and puppy play early evening with a same age puppy.  That was enough but the day turned out to be filled with more than I bargained for including:
– Goofy lab encounter (came out of nowhere on our walk).  He was friendly but the "out of nowhere" part, startled Tai.  He recovered quickly.
– Icy bath. Unexpected opportunity to play with 15 week old golden retriever puppy (a good thing) but the only safe place to play was my friend's agility field that looked snow covered but in fact the warm weather had created slushy ice-cold puddles under the snow.  So, Tai had his first experience being wrestled down by his puppy playmate into an icy bath.  He stood up, shook off and headed for higher ground.   I quickly decided maybe this wouldn't be the best experience for him.  We'll try again another time!  I can also note that my friend lives on a busy road and Tai paid no attention to the traffic going by.
– First encounters with skateboarders,  rollerbladers, bicyclists, teenagers swinging on park benches, puddles to walk through, AstroTurf, pea gravel, a dog screaming and lunging at the end of its owner's leash, cars moving by us in the parking lot.  All these encounters – which he took completely in stride — happened when I added a 20 minute stop at a local park to our agenda for the day.  Nearly 60 degree weather brings everyone out!
– We also encountered loud squeaking park swings.  Tai startled but was curious enough to investigate.  We turned it into a positive experience when the teenagers on the swings were happy to meet and treat Tai.
The puppy play with the same age puppy "Grace"was great.  Got a few recalls in, rewarding his response with a good game of tug (food isn't interesting enough).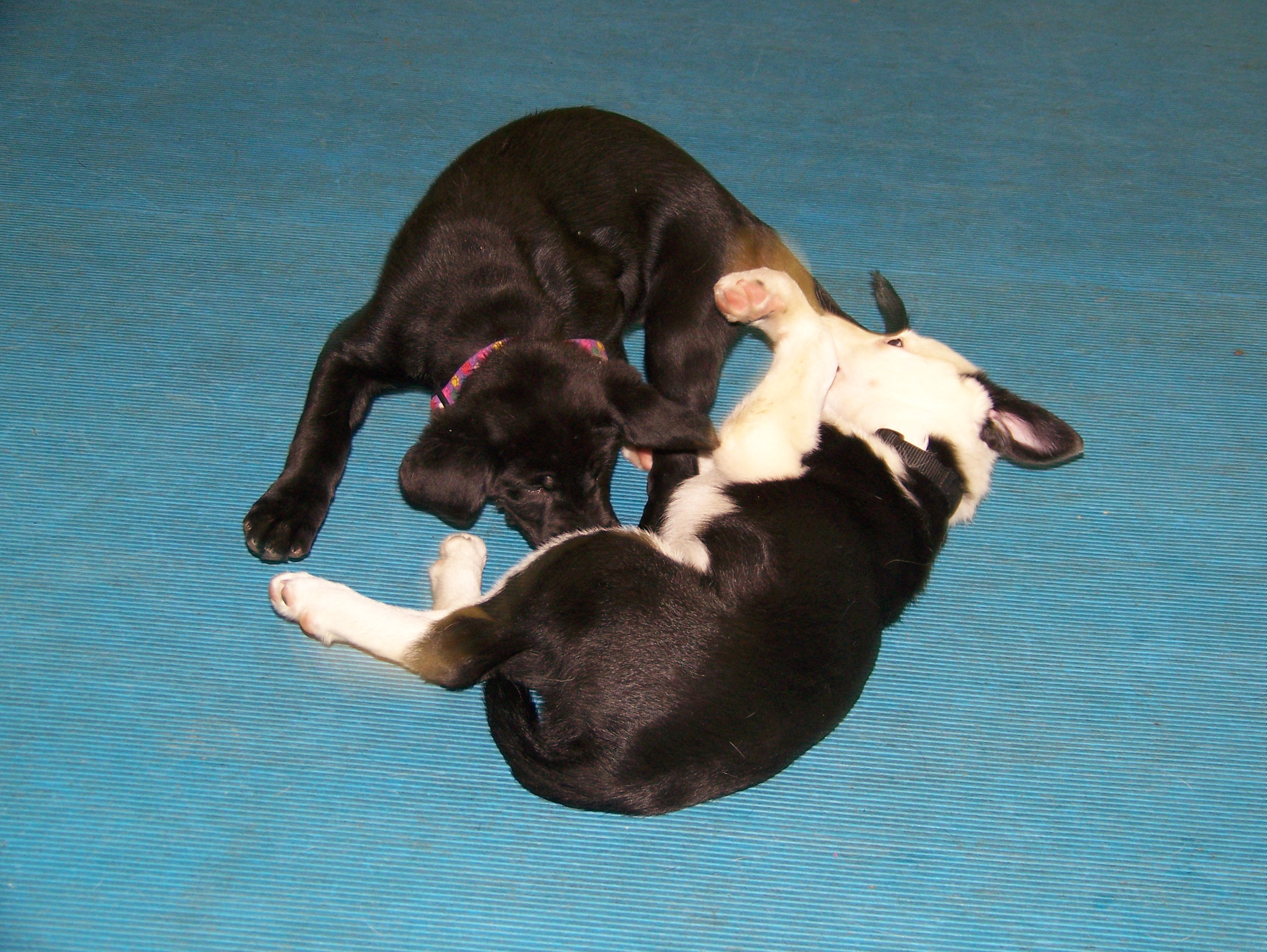 I love the way Tai's confidence is growing as he learns about this crazy world he lives in.  He's now walking confidently out of the front door of our house and down the driveway, fully recovered from the septic tank experience and as I mentioned above habituating nicely to traffic.    But it helps if I'm ready to speed recovery from uncertainty by turning potentially negative experiences into positives.  This means observing my puppy and having a pocketful of good treats and a toy on my person at all times.
Yesterday I decided to give him some practice on our basement stairs and check on my laundry at the same time.  Tai has been in the basement a few times.  We've played in the finished portion and he had a chance to explore the unfinished area once before.  As we walked into the laundry area, he heard the dryer and metallic clicks of zippers, etc hitting the sides of the dryer.  He stopped and then backed up a couple of steps.  I walked calmly to the dryer and squatted down, with my back to the dryer.  After a moment,  he approached as his curiosity kicked in.  I tossed a few treats on the ground to draw him in a little closer which he ate quickly.  A dog that will eat is really not that stressed.  Then I presented a toy to have a game of tug next to the dryer.    He grabbed onto the toy and we played and played.  This whole sequence happened within a couple of minutes.    He would have figured it out on his own eventually but I'm glad I was ready to speed up the process.  Just to be clear, I never reward a puppy for being afraid.  I rewarded his decision to approach the dryer and created a positive association at the same time.
It's raining today and that will be a first for him too.  It's a big wide world out there!