Demon Dog?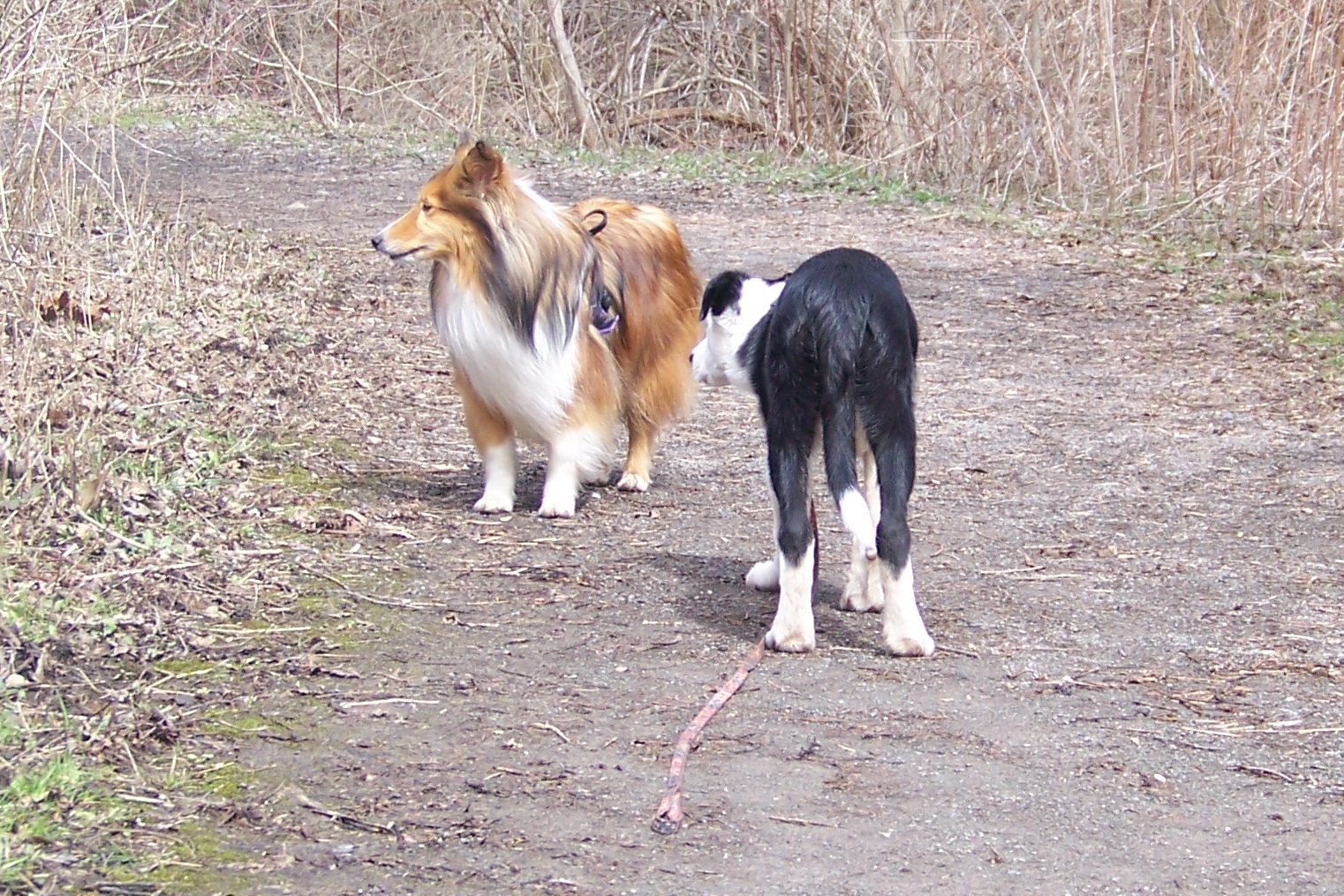 I've been asked by a bunch of people how my border collie puppy Tai differs from my shelties.  Of course, he's only just 3 months old so it's still early days but the most obvious answer is "He's BIGGER".  In fact, it appear he's going to be on the larger size of the border collie range judging from his "mitts".  He blew past my petite sheltie Breeze a few weeks ago and has also edged past my more moderate size sheltie Lacey and is quickly moving on up.  And he's exhibiting stronger herding behavior as you might expect.
The other indicator of the difference between Tai and our shelties is the nickname my husband has given him.  Lacey became "Lu Lu Bell", Breeze became "Twinkie Toes".  Then there is the moniker my husband chose for Tai — He affectionately refers to him as "Demon Dog".   Yes, he sometimes seems rather devilish, in a sweet sort of way and if Breeze could talk this would be the most polite way he would ever refer to Tai.  But really he's just a normal BC puppy – busy, curious and of course, bigger.  So he can get into more stuff and boy, does he.  Whenever I forget to close my closet door…he manages to find my most expensive shoes first.  Why is that?
On our recent road trip to a 3-day USDAA trial in Virginia,  Tai spent a lot of time in his crate and had very little freedom to run around.  On leash (of course) at the trial site.  Small hotel room.  Late days so no opportunity to find a park.  You get the picture.  The solution?  Crate games, hand targets, and Sit-tug-Sit games in the hotel room.  What a difference a little mental activity can make to a border collie.
When we arrived back home at 1:30 am, my husband crashed in bed (he had done all the driving) and the puppy (and the shelties) reveled in being back home.  The puppy ran from one end of the house to the other, playing chase games with Breeze and reacquainted himself with his favorite toys.  After a few hours of sleep (in the crate again!), we were all up early (except my husband) and there was still a lot of pent up energy.
But then a curious thing happened.  For the first time, 10 yr old Lacey engaged with a long play session with Tai.   It was fun to watch.  Tai was up for the mouthing games that shelties like to do and they tugged and tugged together.  I guess there was a built up need to play after all that confined time.  Who would have thought.